NDIS Reference numbers are provided by the NDIA when your agency is approved to provide NDIS services.
Your NDIS Reference number must be stored in your CRM database to enable claiming of NDIS activities.
If you are unsure about NDIS Reference Number configuration, please contact CDS Support.
Instructions
To view your NDIS Reference Number information
Step 1. Log into your CRM database (refer to Logging On for further information).
Step 2. Select NDIS Reference Number from the Top menu
The NDIS Reference Numbers page is displayed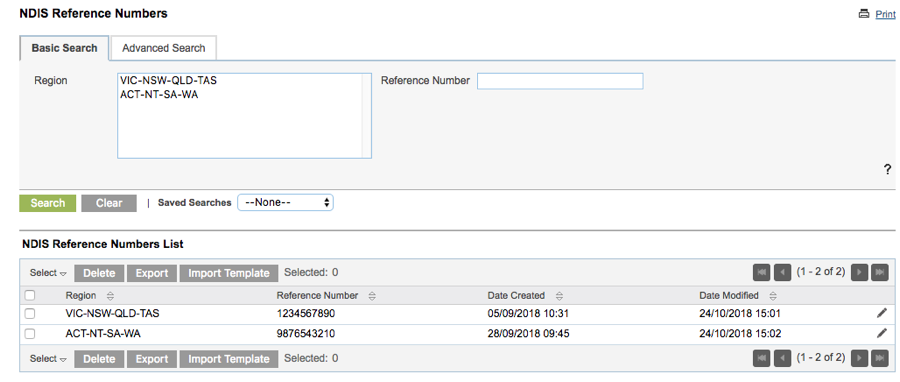 Note - If your agency works across multiple regions, 
you may have more than one Reference number.
Step 3. Click edit next to your NDIS Reference number to view the record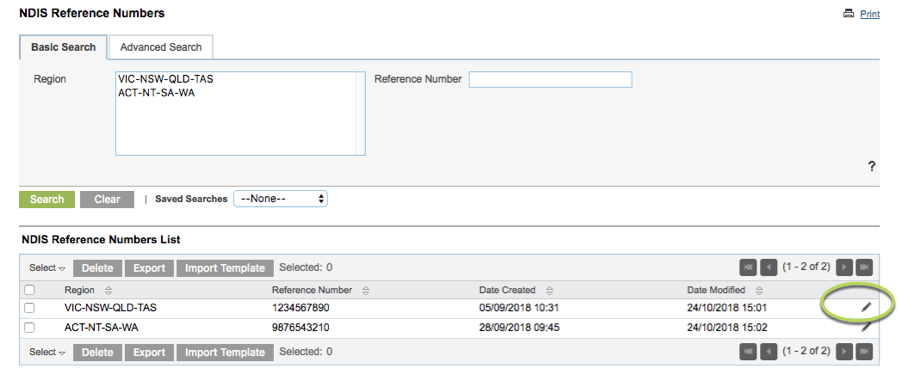 The Reference Number detail page is displayed.

Region:
The Region is the NDIS region this number relates to.
Each Support Item is related to a region.  The Support Item selected for an activity/claim determines which reference number is used in the NDIS Claims Report.
Reference Number:
The Reference Number is required in the NDIS Claim Report to identify the lodging agency.
Claimable %:
The Claimable % figure is used within the system to automatically calculated cancellation claim type unit prices.
Currently the NDIS allows up to 90% of the full price to be charged as a cancellation fee for late cancellation of activities.
If your agency prefers to charge a lower amount, you can specify that here.
To add or edit an NDIS Reference Number
We recommend contacting CDS Support to add or edit an NDIS Reference Number
Further Information
For further information, refer to the following articles: