Tenancy Management functionality tracks all Tenancy Counselling services provided to and associated with, clients. This module has the capability to record the tenancy issues presented by the client, multiple tenancy counselling sessions and outgoing referrals. It can also store relevant client documents.
The Tenancy Casefile intake form records key information about the tenancy location, tenants, leasing arrangement, tenancy matters and referring organisation.
Instructions
Step 1. Log into your CRM database (refer to Logging On for further information).
Step 2. Find the record for the required Client.
If the client does not exist in your database, add a client record.
Step 3. Scroll to the Tenancy Casefile section of the Client record.
Step 4. Click Create
The Tenancy Casefile page is displayed.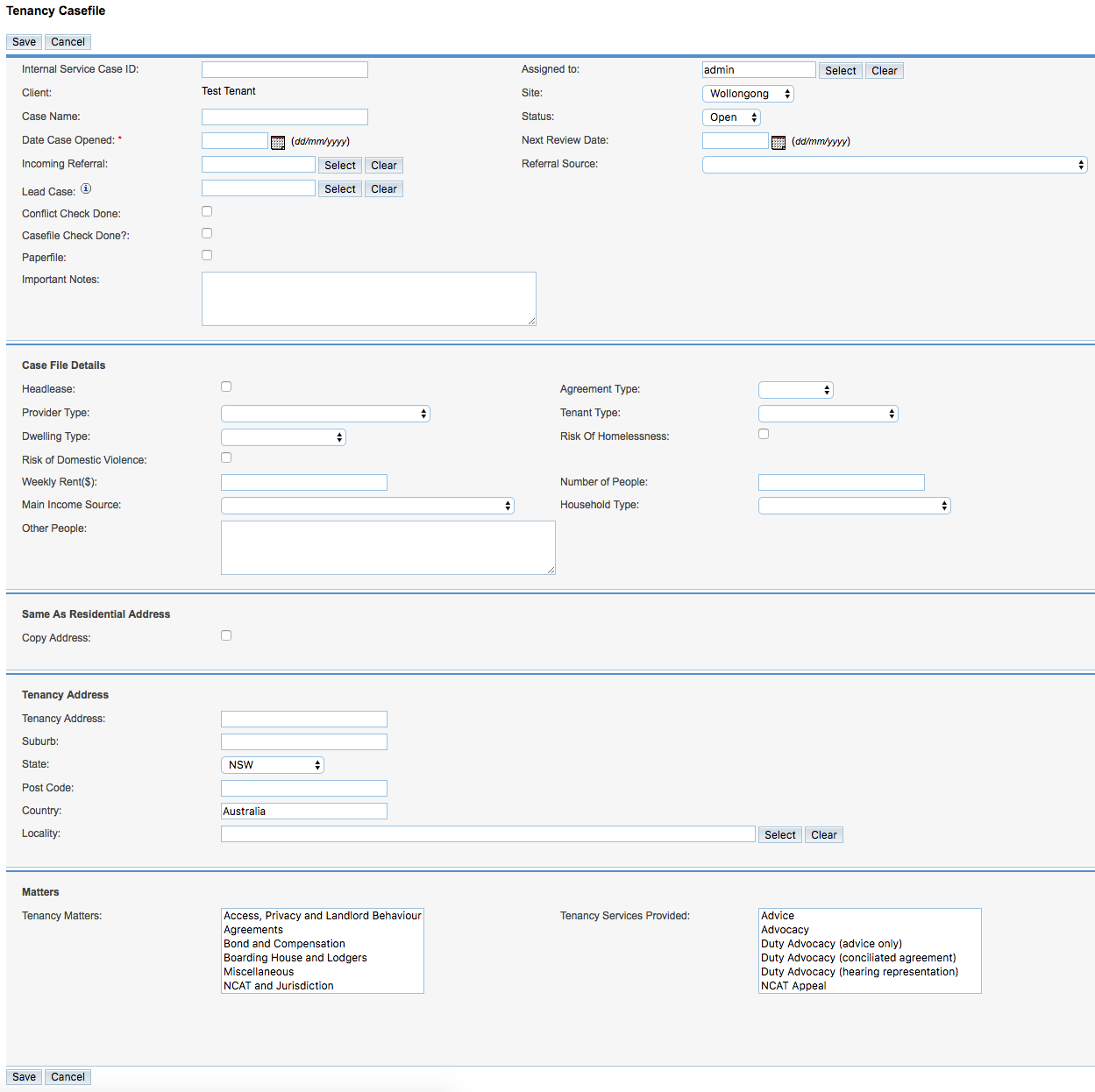 Step 5. Enter the Core Case Information
The Core case information includes the date the case was opened, tenancy address, case status and referral information.

Step 6. Enter the Case File Details
The Case File details include information about the agreement, provider, tenant and dwelling types.

Step 7. Enter the Tenancy Address details
The Tenancy Address details records the address related to the case. If the address is the same as the residential address, you can use the copy address checkbox.

Step 8. Select the Matters options
The Matter options allow you to select tenancy and tenancy services related to the case.

Dependent on the tenancy Matter you select, another list will appear for you to select from.

Step 9. When all information has been entered, click the save button

Once the record is saved, sub-panels will appear beneath the record
The sub-panels may vary dependent on your agency's database configuration.
They should include:
Tenancy Session

Include specific communications and case related follow up activities. This is where the case notes are recorded.
Refer to the Casefile Session article for more information.

Other Tenants

Record name, contact information and notes of other tenants.

Related Contacts

Record organisations associated with the case.
The organisation must be created as a contact within the database.

Related Cases

Any related cases recorded in the system

Referral

Outgoing referrals may be recorded, including referral date, referred to option and notes.
The referral organised must be created as a contact within the database.

Tenancy Casefile Documents

A repository to store any case-related documents.
Next Steps
Further Information
For further information, refer to the following articles: