Settlement Services session activities are raised against a Settlement Services Casefile until the case is closed.
Settlement Services functionality tracks all Settlement services provided to and associated with, clients.
Instructions
Step 1. Log into your CRM database (refer to Logging On for further information).
Step 2. Find the record for the required Client.
If the client does not exist in your database, add a client record.
Step 3. Scroll to the Settlement Services Casefile section of the Client record.

Step 4. Select the required casefile from the list.
If the casefile does not exist, create a settlement services casefile.
Step 5. Scroll to the Settlement Services Session subpanel.

Step 6. Click Create to create a new session
Enter the required information:
Subject

Enter a subject for the session

Session Date

Select a date from the calendar, or enter a date in the format dd/mm/yyyy

Primary Service Type

Select from the drop-down list

Visit Circumstances
Contact Type

Select from the drop-down list

Direct Time

Enter the time taken for the session

Indirect Time

Enter any time taken outside of the session, to prepare or follow up

Travel Time

Enter any travel time for the session

Distance Travelled (kms)

Enter the distance travelled to the session

Out of Hours

Click the checkbox if the session was after hours

No Show

Click the checkbox if the client did not attend

Assigned to

Select the assignee, this will default to the user creating the record

Interpreter Present

Click the checkbox if an interpreter attended the session

Issues Addressed

Select the issues addressed during the session
Tip: When an issue is selected, an additional list 
will be displayed. Select the specific issues 
addressed within the original category.
Informal Referrals

Select any informal referrals made during the session

Formal Referrals

Select any formal referrals made during the session

Notes

Enter the details of the session, including actions and outcomes.
Step 7. When all information is entered, click Save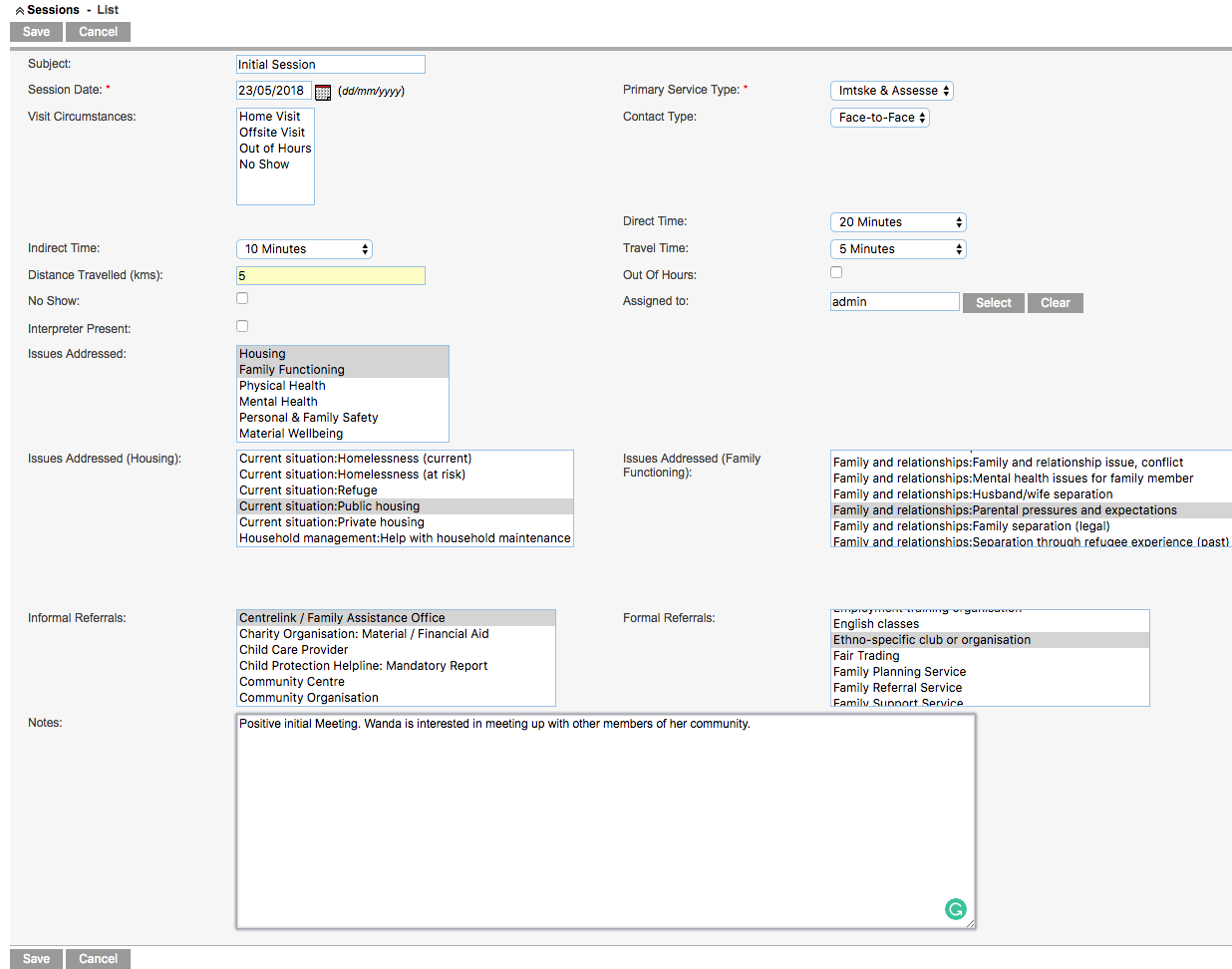 The new session is added to the session list for the Settlement Services case

Further Information
For further information, refer to the following articles: