The Active Placements Report provides a list of all placements active within the selected reporting period.
Placements are sorted by Placement Type and Carer Household.
Instructions
Step 1. Select Reports from the top menu
Step 2. From the Report drop-down menu, select Out of Home Care – Active Placement List
Step 3. Populate the Report input parameter fields (Start Date/time, End Date/time, Placement Type)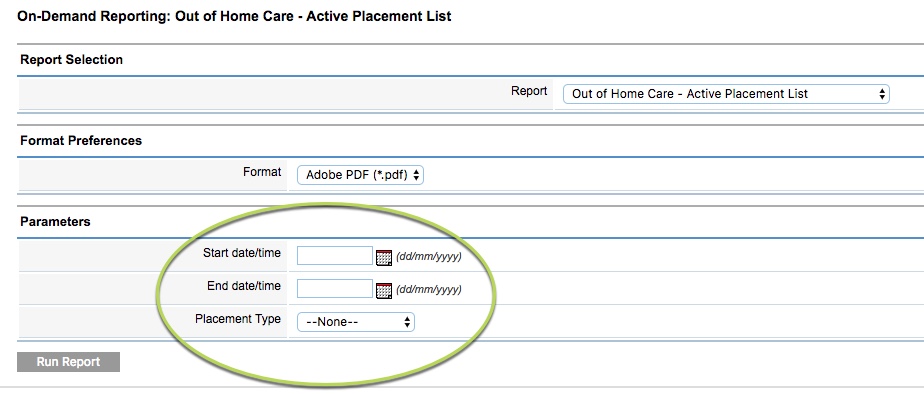 If a placement type is not selected all types will be returned.
Step 4. Click Run Report
The Report returns the following summary information:
Number of Placements Opened

Count of placements with a commencement date within the reporting period

Number of Placements Opened and Closed

Count of placements with both commencement and end dates within the reporting period

Number of Placements Closed

Count of placements with an end date within the reporting period

Total Number of Active Placements

Count of placements open at the end of the reporting period
The Reports returns the following detailed information:
List of Active Placements

Placement Type

Displays the type of placement

Carer Household

Displays the name of the carer household

Children

Displays the name and date of birth of the placed child

Commencement Date

Displays the date the placement commenced

End Date

Displays the date the placement ended (if applicable)
Further Information
For further information, refer to the following articles: