The Case Management  – Statistics Report allows you to monitor how many active clients you are currently managing.  You may also access client information associated with other database users.
Instructions
Step 1. Log into your CRM database (refer to Logging On for further information).
Step 2.  Select Reports from your Top Menu
Step 3. Select Case Management Statistics from the Report drop-down list

Step 4.  Enter the required parameters
Start date/time – start of the reporting period
End date/time – end of the reporting period
Site – site to report on (leave as None to report on all sites)
Case Management Funding Source – Funding Source to report on (leave as none to report on all Funding Sources)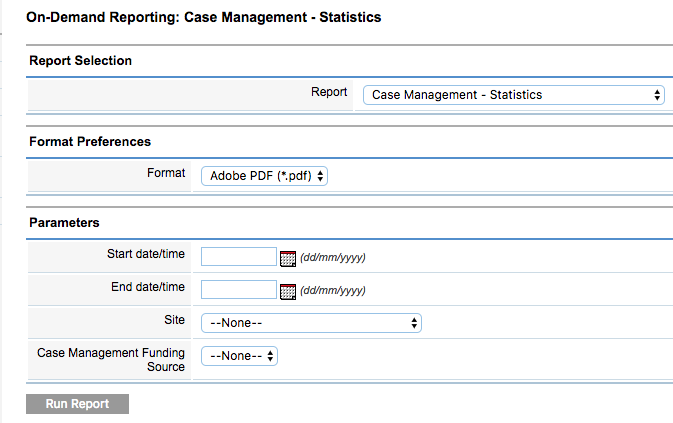 Step 5. Click Run Report
The Report will display in your browser, or open with your PDF viewer, depending on your computer's settings.
Case Management Statistics are displayed.
Report explanations
Number of cases open at the start date
Count of unique Case Management Records
Must be attached to a Client
Case Management record has a start_date before or equal to START_DATE parameter
Case Management closed_exit_date is not set OR greater than START_DATE parameter
Filters on QWAD_SITE, FUNDING_SOURCE
Number of cases opened during the period
Count of unique Case Management Records
Must be attached to a Client
Case Management record has a start_date between START_DATE and END_DATE parameter
Filters on QWAD_SITE, FUNDING_SOURCE
Number of cases closed during the period
Count of unique Case Management Records
Must be attached to a Client
Case Management record has a closed_exit_date between START_DATE and END_DATE parameter
Filters on QWAD_SITE, FUNDING_SOURCE
Number of cases remain open at the end date
Count of unique Case Management Records
Must be attached to a Client
Case Management record has a start_date before END_DATE parameter
Case Management record has a closed_exit_date that is NULL OR greater than END_DATE parameter
Filters on QWAD_SITE, FUNDING_SOURCE
Number of cases with at least one session during the reporting period
Count of unique Case Management Records
Must be attached to a Client
Must be attached to a Case Management Session
Case Management Session record has a session_date between START_DATE and END_DATE parameters
Filters on QWAD_SITE, FUNDING_SOURCE
Number of clients with activity during the reporting period and a prior case
Count of unique Client records
Client must be attached to 2 Case Management records
First case management record must have a start_date before START_DATE parameter
Second Case Management record must be attached to a Case Management Session record
Case Management Session session_date must be between START_DATE, END_DATE parameters
Second Case Management record filters on QWAD_SITE, FUNDING_SOURCE
Further Information
For more information on Reporting refer to the following articles: