When initialising or updating the DEX Reporting functionality in your database, you may need to provide your DEX Outlet and Activity file.
This ensures that you record data against the correct outlet and funding source and enables you to report the correct information for uploading to the DEX Portal.
The Data Exchange Portal requires all funded agencies to register the Outlets at which they will be delivering the DEX funded services and the activities they plan to undertake in delivering those services. This is the case even for agencies who record the information by keying it directly into the Portal.
Instructions
Step 1. Log into your DEX Portal using a computer installed with AUSKEY or myGovID.
Step 2. Click Manage Organisation
he Manage Organisation page is displayed, including Organisation Details, Outlets and Program Activities
Step 3. Click Reference Data from the I Want To… list on the right-hand side of the page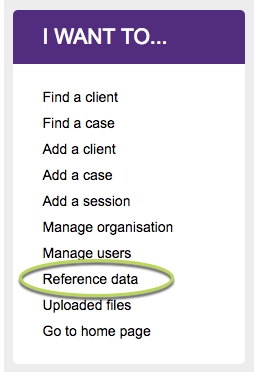 Step 4. Click the Download Organisation data link

The file is downloaded to your computer.
Step 5.  Locate the downloaded file and email the file to Community Data Solutions as advised by your account manager or support contact.
Community Data Solutions will organise to have your database updated as required.
Further Information
For further information on managing your outlet and activity data, refer to the following:
For further information on the DEX Reporting process, please refer to the following links: