The Out of Home Care – Statistics Report was originally built to meet various funding body reporting requirements. The report also contains additional information to help you better manage your organisation's services.
Instructions
Step 1. Log into your CRM database (refer to Logging On for further information).
Step 2.  Select Report button from the Top Menu
Step 3. From the Report drop-down menu, select Out of Home Care – Statistics.

The following screen should be visible.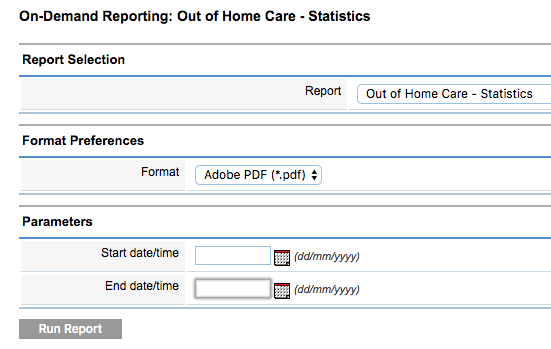 The Out of Home Care – Statistics report has the capacity to be limited by start and end dates. These fields are located under Parameters; complete them according to your requirements.
Step 4. Click Run Report
Once the report has completed processing, click the 'Click Here to Download'  link
The Report will display in your browser, or open with your PDF viewer, depending on your computer's settings.
The OOHC Statistics Report is displayed, including the following information:
Referrals and Placements Summary
Placement Information
Carer Information
Staffing
Training
Further Information
For further information on running reports, please refer to Produce a Report.