The Community Obligations functionality allows for the recording of various programs for adults, young people and volunteers by linking their client/volunteer record, obligation details and related activities within a single case.
The CRM database Community Obligations functionality is tailored to each organisation. Your Community Obligations pages may have a slightly different appearance.
Instructions
Step 1. Log into your CRM database (refer to Logging On for further information).
Step 2. Search the database to ensure the Client record exists. If you are working with Volunteers, you may need to search your Worker or Volunteer module instead.
If the client does not exist in your database, add a client record. If the volunteer or worker does not exist in your database, then add a worker or add a volunteer
Step 3. Scroll down to the Community Obligations sub-panel on the client/volunteer record. Click on the 'Create' button.

Step 4. Enter the required Case details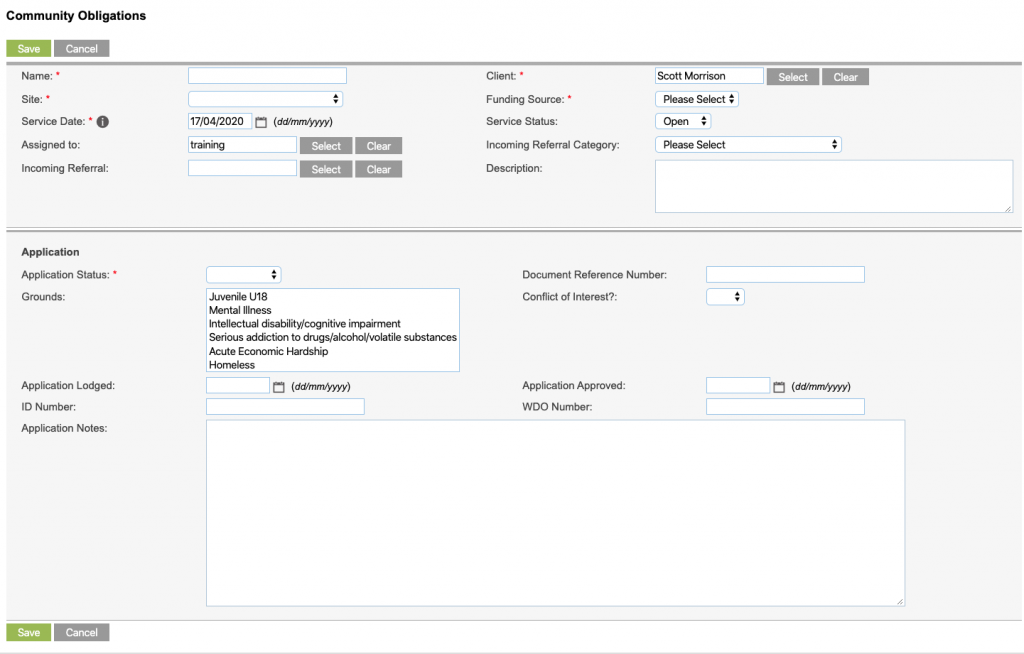 Name

Enter a name for the Case e.g. WDO April 2020

Client (or Volunteer)

This will be pre-populated.

Site

Select the appropriate administrative Site or Office Location for the case

Funding Source

Select the appropriate funding source or program for the case

Service Date

Defaults to the current date

Service Status
Assigned To

This defaults to the current user, click Select to search for a different user if required

Incoming Referral Category

Select from the drop-down list

Incoming Referral

If required, start typing the name of a contact, or click Select to search for an existing contact

Description

Enter any relevant comments or background information.

Application Status

Select from the dropdown list

Document Reference Number
Grounds

Choose one or more from this multi-select list

Conflict of Interest

Indicate whether a conflict of interest exists via the dropdown.

Application Lodged
Application Approved
ID Number
WDO Number
Application Notes

Any relevant notes in regards to the application process or result.
Step 5. Click Save
The Case is saved successfully.
Next Steps
Further information
For further information, refer to the following articles: