When uploading a bulk XML upload to the Data Exchange (DEX), you may receive errors.
Errors may occur due to a number of reasons, usually related to incorrect or missing data.
Instructions
Step 1. Create your XML Bulk Upload file (refer to the Create a DEX Activity Report  article for instructions. )
Step 2. Upload to the DEX Portal (refer to the Upload XML Report to DEX article for instructions.)
Step 3. Log into your DEX Portal using a computer installed with AUSKEY or myGovID.
Step 4. Click on the Uploaded files link in the My Organisation panel.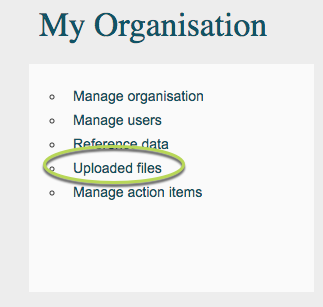 Step 5.  Enter the date period for your recent file

Step 6. Click Search
All uploaded reports for the time period are listed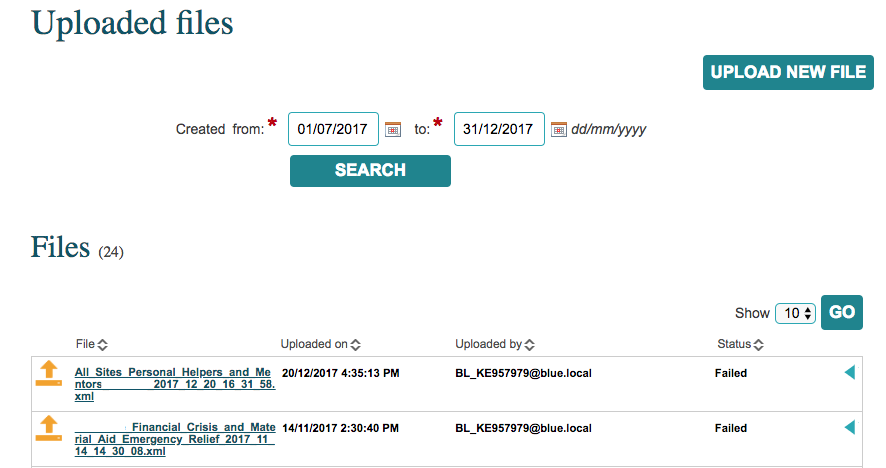 Step 7.  For any files with a Status of Failed, click the triangle on the right of the Status field.

Step 8. Click the link to the Error Report
The error report is downloaded to your computer.
Step 9. Open the report and view the details

Each error report will have the same format:
Entity Type

The entity type that caused the error
e.g. Client, Case, Session or Session Assessment

Parent Entity Details

The parent element (e.g. case is the parent element of a session)
e.g. Caseid: abcd23456

Entity ID

The unique identifier of the element that triggered the error
e.g. abcde123

Error Description

the nature of the error
e.g. End date is invalid
Often an issue with a parent entity (Client) will cause issues with all the following child entities.  If the Client record cannot be loaded any records that relate to that record will also fail.
In each case, you will need to review the record that has errored.
Entity Type = Client
Entity Type = Case
Entity Type = Session
Please refer to the following articles to resolve common errors.
You can also copy the error message into the Knowledge Base search field.
If you are unable to find the error message in the Knowledge Base or resolve the issue, please contact CDS Support for further assistance.