The Emergency Relief Clients Accessed report provides a list of clients who have equalled or exceeded a particular dollar value of emergency relief within a given time frame.
 Instructions
Step 1. Log into your CRM database (refer to Logging On for further information).
Step 2. Select Reports from the top menu

The On-Demand Reporting page is displayed
Step 3. Select the Emergency Relief – Clients Accessed Report from the list

The parameters are displayed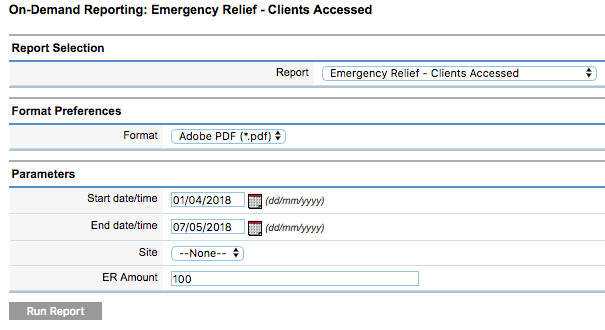 Step 4. Enter the required parameter information
Select the required start and end dates for the reporting period
Select the required Site (if required). If not selected, all Sites will be included.
Enter the required ER Amount (any clients who have received assistance totalling above this amount will be reported.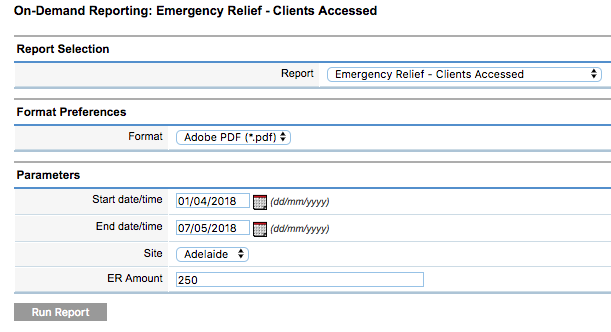 Step 5. Click Run Report
Once the report has completed processing, click the 'Click Here to Download'  link
The Report will display in your browser, or open with your PDF viewer, depending on your computer's settings.
The Emergency Relief – Clients Accessed report is displayed.

The Report lists the following information:
Client Information

Client Name
Client Birthdate
Client Age

Emergency Relief Information

Date
Assistance Received
Total
Assistance provided compared to Emergency Relief Statistics Report
The Emergency Relief Clients Accessed Report lists the assistance provided during the period. That is, it lists sessions during the report period where assistance was provided (e.g. voucher given) and a Total Clients figure at the bottom of the report.
The Emergency Relief Statistics report includes:
1.1 Number of Clients helped: Count of sessions during the report period regardless of assistance being provided. Often this will state a higher figure than the Total Clients figure in the Clients Accessed Report as it counts sessions where no assistance was provided (i.e. no voucher given)
Please also note that the 'Assistance Breakdown' tables in the Emergency Relief Statistics Report show a slightly lower total of assistance than the Emergency Relief Clients Report. This is because the ER Statistics report only requires that the assistance was provided during the period. The Clients Report also requires that the ER case was raised in the period.
Further Information
For further information, refer to the following articles: