The NDIS supports group activities for multiple clients e.g. Yoga or group education sessions. To claim NDIS funding for a group session, attendees must be added to a group activity.
Instructions
Step 1. Log into your CRM database (refer to Logging On for further information).
Step 2. Search for the required Group Support Plan
If the Group Support Plan you need does not exist in your database, continue with the creation of a Group Support Plan.
Step 3.  View the Group Support Plan record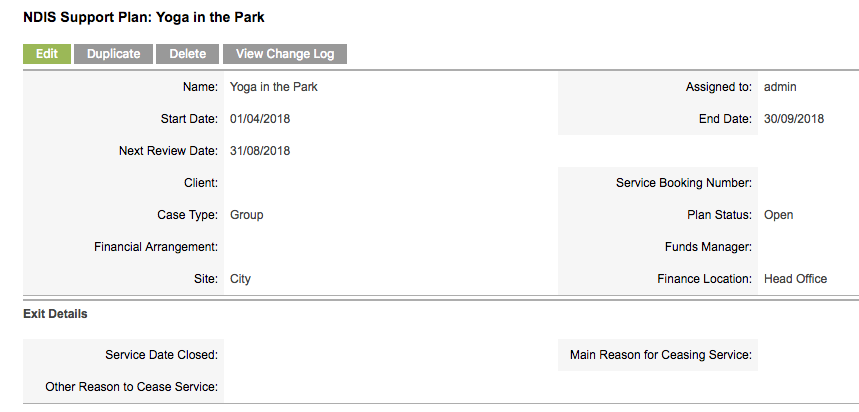 Step 4. Scroll to the NDIS Regular Attendees sub-panel.

Step 5. Click Create to add an attendee
The Regular Attendee creation subpanel is displayed

Step 6. Select the required Attendee type e.g. Client
Select the appropriate Referral Source if required, e.g. Community services agency

Step 7. Click Select next to the Client field
The Client Search window is displayed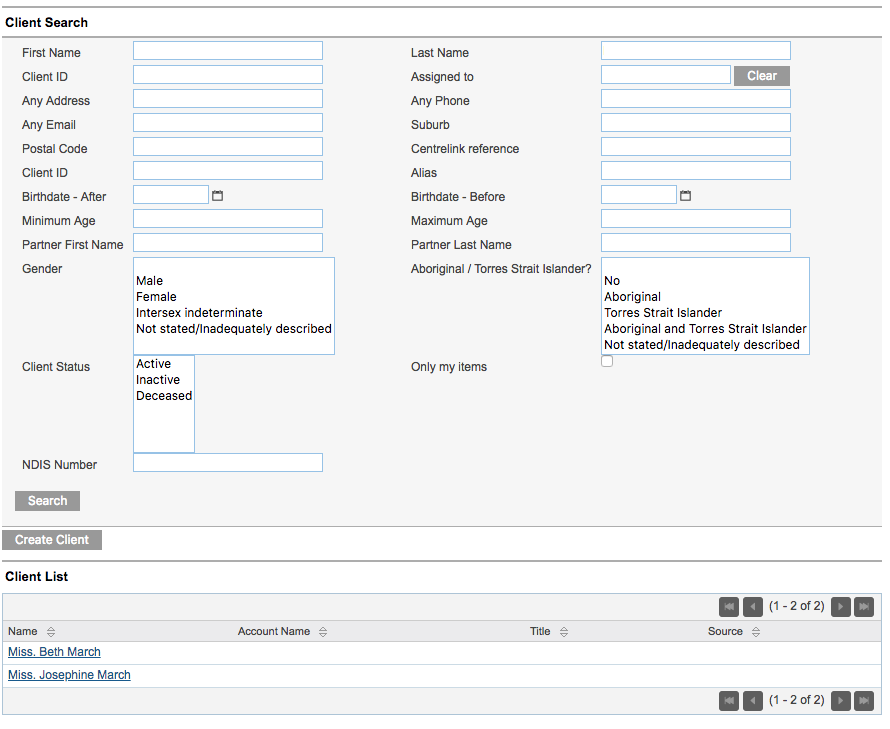 If the required attendee has been added to the database, their name may appear.
You may need to search for the required person, using the available search criteria and clicking Search.
If the required person is not in the database, refer to Creating the Client  for instructions.
Tip: To successfully claim the activity for a client, 
the client record must contain an NDIS number 
and the regular attendee record must contain 
a Service Booking and Support Item.
Step 8. Click the Client name to select the new client
The Client is selected and the Client field is populated

Step 9. Click Select to choose a Service Booking for the client

Service Bookings for the client are listed
Step 10. Click on the Name of the required service booking

The selected service booking is returned to the record.
Step 11. Complete the Default Service Booking details
Click Select to choose an NDIS Support Item for the client
The available items for the selected service booking are listed.
Step 12. Click on the required item

The selected item is returned to the record, the price, units and measure details are populated.
Step 13. Click Save

The new regular attendee is added to the list
The new attendee is now available to select for any session related to this Support Plan.
Step 14. Repeat steps 8-13 for all required attendees.
Further Instructions
For further information, refer to the following articles: