When working with an NDIS Client, most meetings/interaction are recorded as NDIS activities – allowing for the creation of linked NDIA Claims or invoices.
There is information that may need to be recorded separately to activities, whether it be non-chargeable meetings or general information.
This information can be recorded against the NDIS Support Plan as a Case Note.
Instructions
Step 1. Log into your CRM database (refer to Logging On for further information).
Step 2. Search for the required NDIS Client.
Step 3. View the Client record
Step 4. Scroll to the NDIS Support Plan sub-panel.

Step 5. Select the required NDIS Support Plan.
The NDIS Support Plan page is displayed.

Step 6. Select Create in the NDIS Case Notes sub-panel

Step 7. Enter the required details in the NDIS Case Notes page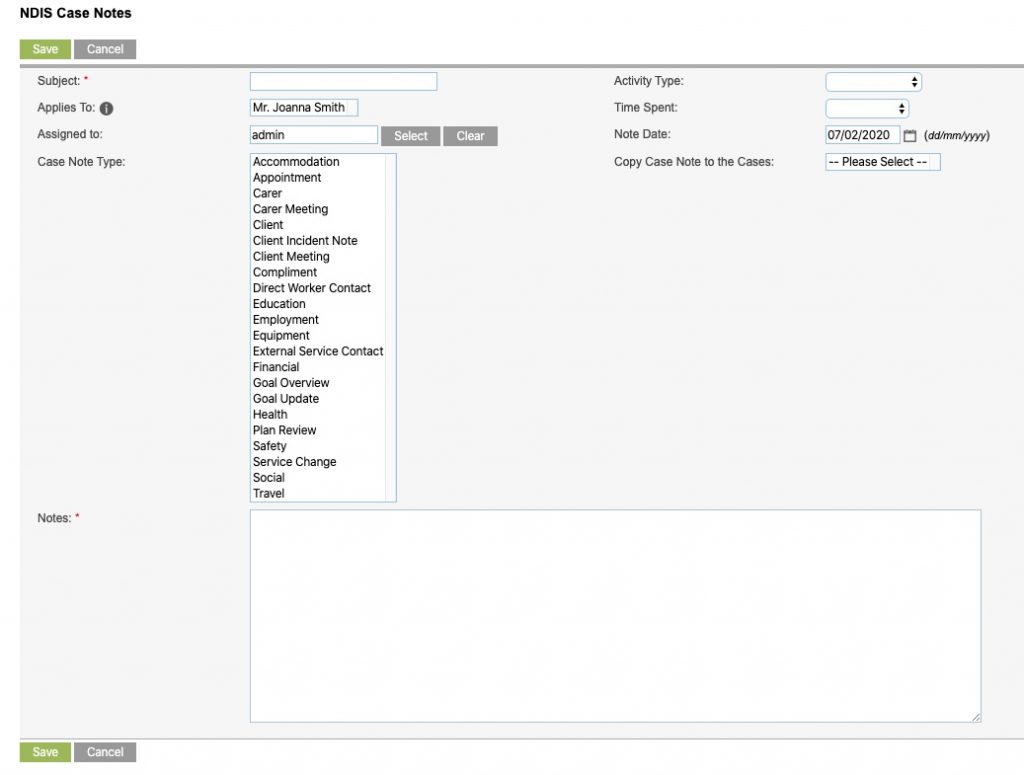 Subject – enter a name for the case note
Activity Type – select the type of activity the note refers to e.g. Phone Call, Email
Applies To – automatically links to the selected Support Plan
Time Spent – select the amount of time spent on the note/session
Assigned to – default to the person entering the note
Note Date – defaults to today, change by overwriting or clicking on the calendar
Case Note Type – select one or more topics from the list
Copy Case Note to the Cases – only required for group cases
Notes – enter details of the note
Step 8. Click Save
The note is saved and added to the Support Plan record.

Further Information
For further information, refer to the following articles