The NDIS Case Notes report provides details of Case notes recorded against the selected NDIS Support Plan.
This report does not include Notes recorded directly against NDIS Activities. For Activity Notes – please refer to NDIS Reports – NDIS Activity Notes
Instructions
Step 1. Log into your CRM database (refer to Logging On for further information).
Step 2. Search for the required NDIS Client.
Step 3. View the Client record
Step 4. Scroll to the NDIS Support Plan sub-panel.

Step 5. Select the required NDIS Support Plan.
If the required support plan has not been created, refer to the NDIS – Create Support plan article for instructions.
The NDIS Support Plan page is displayed.

Step 6. Select NDIS Case Notes in the Shortcuts menu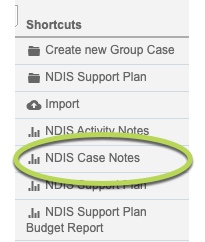 Once the report has completed processing, click the 'Click Here to Download' link
The Report will display in your browser, or open with your PDF viewer, depending on your computer's settings.
The NDIS – Case Notes Report is displayed.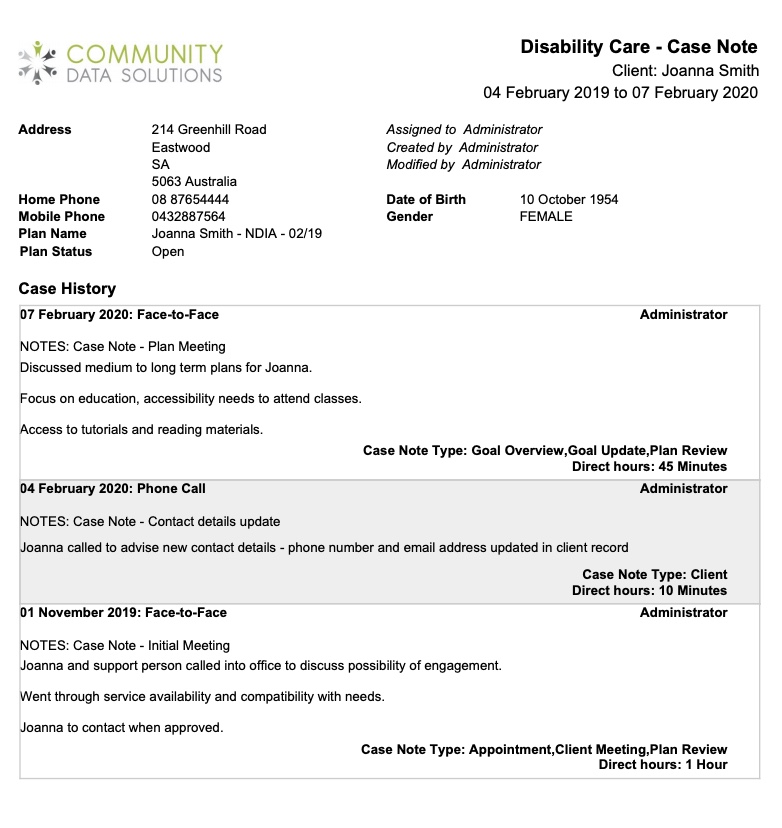 The Report lists the following information:
Client Information
Client Name
Date range of activities
Client Address
Client Contact Details
Client Date of Birth
Client Gender
Plan Name
Plan Status
Case History
Case Note Details

Case Note Date
Activity Type
Case Note Assignee (creator)
Case Note details
Case Note Type
Direct Hours
Further Information
For further information, refer to the following articles