There are a number of reports provided with your database, each with individual permissions. The General Users report provides a list of all users of the database, their status and the permissions they have.
Instructions
Step 1. Log into your CRM database (refer to Logging On for further information).
Step 2.  Select Activities from your top menu and then select Reports.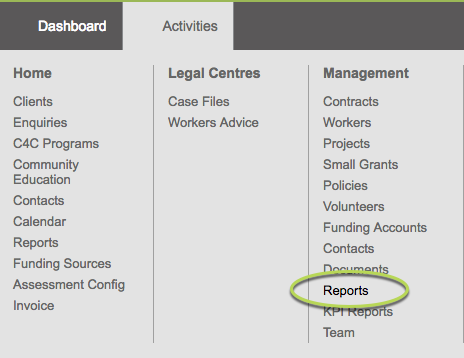 Tip: All databases are configured differently, 
your reports link may appear in a slightly 
different location.
Step 3.  Click on the Report drop down and find General – Users Report

If the General – Users Report is not listed, either you do not have access or it has not been configured for your database.
Speak to your system administrator for further assistance.
Step 4. Click Run Report

Once the report has completed processing, click the 'Click Here to Download'  link
The Report will display in your browser, or open with your PDF viewer,
Step 5. View your report

The Report shows the Last Name, First Name, Username, Status and Permissions list for all users of the system.
Step 6. Scroll to the bottom of the report
The Permissions Breakdown and Total Users are displayed.

Further Information
For more information on Managing Users, refer to the following articles: