The Carer Training Completed is where you record and track training programs your workers have completed in order to perform their duties within your organisation.
These programs may include: Child Safe Environments, Cultural Awareness, and Police Check.
In the Individual Record on the Sub-Panel, you will see Carer Training Completed listed.
Record keeping for Out of Home Care (OOHC) in Permanency Support Program (PSP)
Instructions

Step 1. Log into your CRM database (refer to Logging On for further information).

Step 2. In the Activities Menu

Click on Individuals


Step 3. Search for the Individual you want to add a document.
Tip:
Refer to the Link: Search for more information

Step 4. To display the Individual record.
Click on Individual in the search result.


Step 5. The Individual is displayed.

On the left in the Sub-Panel
Click on Carer Training Completed
Tip:
Sub-Panels are shortcuts, you could also scroll down the screen to get to an item on the Sub-Panel list.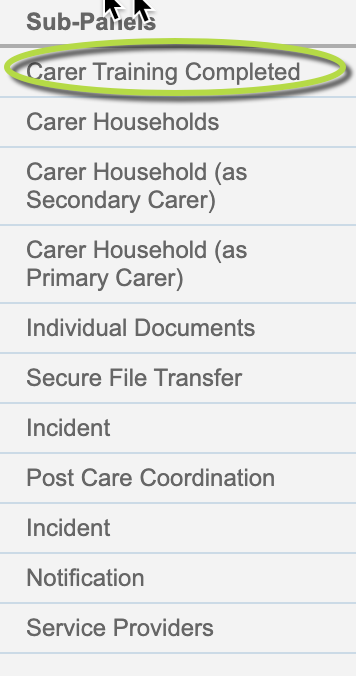 Step 6. You can now see the Carer Training Completed – List
Click on Create


Step 7. You can now see the screen for Carer Training Completed
Enter the required information
Tip:
In the screenshot below "Course Type" has a default of "Senior First Aid", this can be changed by using the drop down arrow next to it and selecting from the list "Course Type". 

A red star * next to a field name indicates that field is mandatory, it can't be left blank.

Screenshots below may be different to your database as each database is customised to suit customer needs.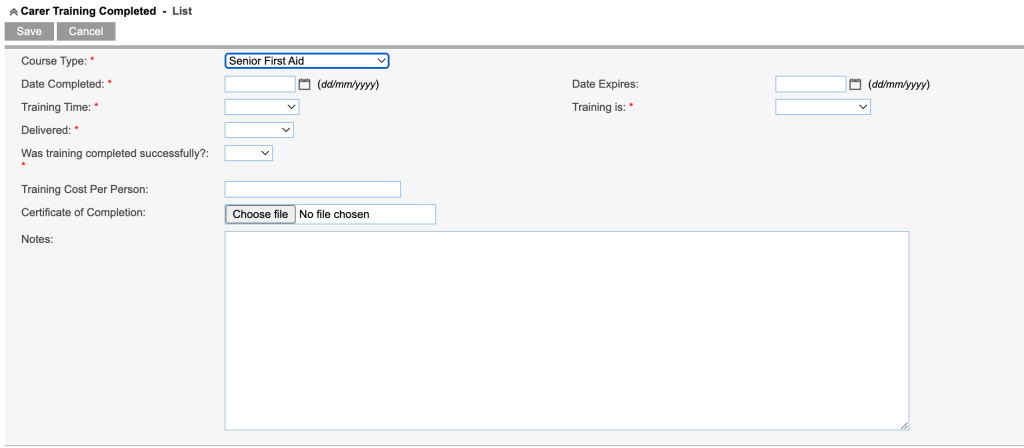 Step 8. When you have finished entering the information including uploading any file record of the training

Click on Green Save button
Tip:
If at any time before saving you want to abort the record creating click on Cancel


Step 9. You will now be able see what you have saved in the Carer Training Completed – list


Further Information
For further information relating to Out of Home Care – refer to the following articles