The Carer Household record holds all the relevant information from Enquiry through to Authorisation for a Carer Household.
The Carer Household record can also be used to keep track of any ongoing activity associated with managing an Active Carer Household.
Record keeping for Out of Home Care (OOHC) in Permanency Support Program (PSP)
Instructions
Step 1. Log into your CRM database (refer to Logging On for further information).
Step 2. In the Activities Menu

Click on Carer Household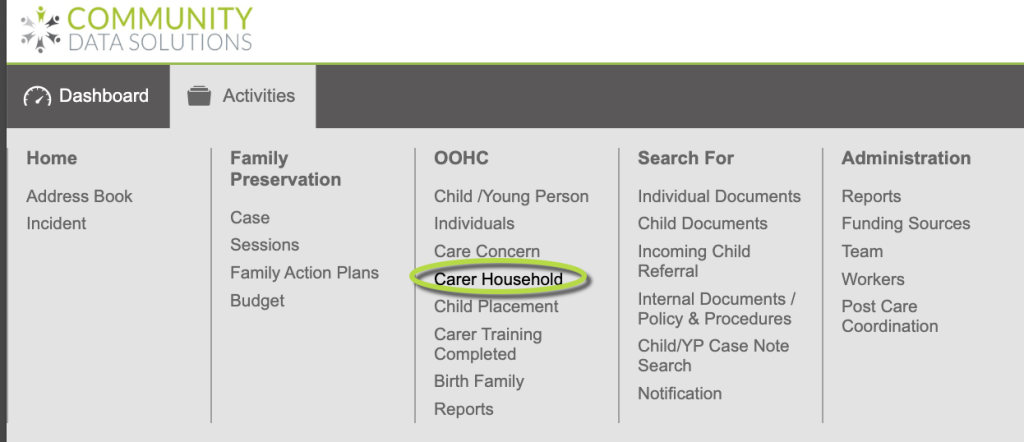 Step 3. On the left in the Shortcuts.

Click on Create Carer Household
Tip:
Before you create an Carer Household, do a Search for it to check if the record is already in the database.  
Don't create it again if it exists. 


Step 4. You can now enter information in the new record for the Carer Household
The sections (or panels) to be populated are shown below.
Tip: 
A red star * next to a field name indicates that field is mandatory, it can't be left blank.
Some fields have default data already in them.  The field can be left as is but check this is correct.
Screenshots below may be different to your database as each database is customised to suit customer needs.
Enter -> Details
When adding the Primary Adult Carer (and Secondary Adult Carer if applicable).
You will be able to search existing in Individual (client) records to locate them or alternatively, create them if they do not already exist – ensure you search for the Adults/Individuals before creating them to avoid duplicate records.
There is an extensive list of fields that can be populated against the newly created Carer Household which at this stage should have a Status = Enquiry as it is required to go through the assessment process.
Tip: 
The name of the Carer Household is often prefixed by the Carer Surname e.g. 'Smith Household.

Enter -> Enquiry Details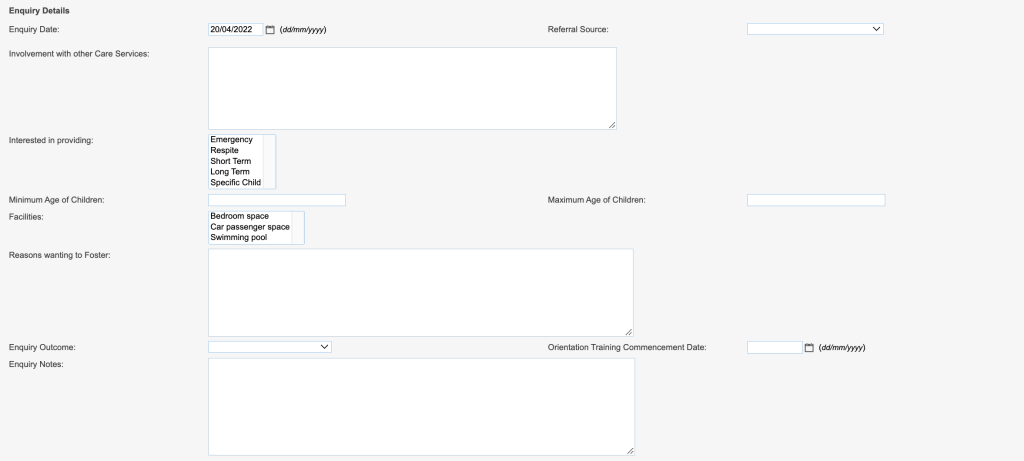 Enter -> Application & Authorisation Details

Enter -> Accommodation Details
Tip:
You can upload a photo of the household - Click on Choose file.

Enter -> Health of Household Members

Enter -> Transport

Enter -> Animals / Pets

Enter -> Other Details


Step 5. When you have finished entering the information.

Click on Green Save button
Tip:
If at any time before saving you want to abort the record creating click on Cancel


Once the Carer Household has been created you can now record additional information in the Sub Panel, see listing below
Carer Case Note/Event
A place to record Carer Household Case note/event
Documents
A place to upload files relating to the Carer Household
Child/YP Placement
Once a Carer Household has been through the assessment process and is approved, the Status is set to Active and the Carer Household is now available to have Placements created against it. This is where Child/UP Placement information can be recorded.
Carer Reviews
A place to record formal reviews that take place either during the assessment process or as an annual review. There is the possibility to upload a document and to record the Review Date field.Other Household Residents
Care Concern
A place to record any Care Concern in the Carer Household
Carer Application & Assessments
A place to record Carer Application & Assessments, you can also upload related documents here.
Critical Information
A place to record Critical Information on the Carer Household
Carer Supervision Report
A place to record Carer Household Supervision Report
Incident
This is where you can record Incidents that relate to the Carer Household
Notification
A place to record Notifications for the Carer Household
Related Carer Households
A place to list any Related Carer Households

Further Information
For further information relating to Out of Home Care – refer to the following articles