Scheduling is the process to record planned sessions (activities/services) for a client with associated bookings and shifts.
Scheduling allows services/activities to be planned in advance and allocated to support workers as required.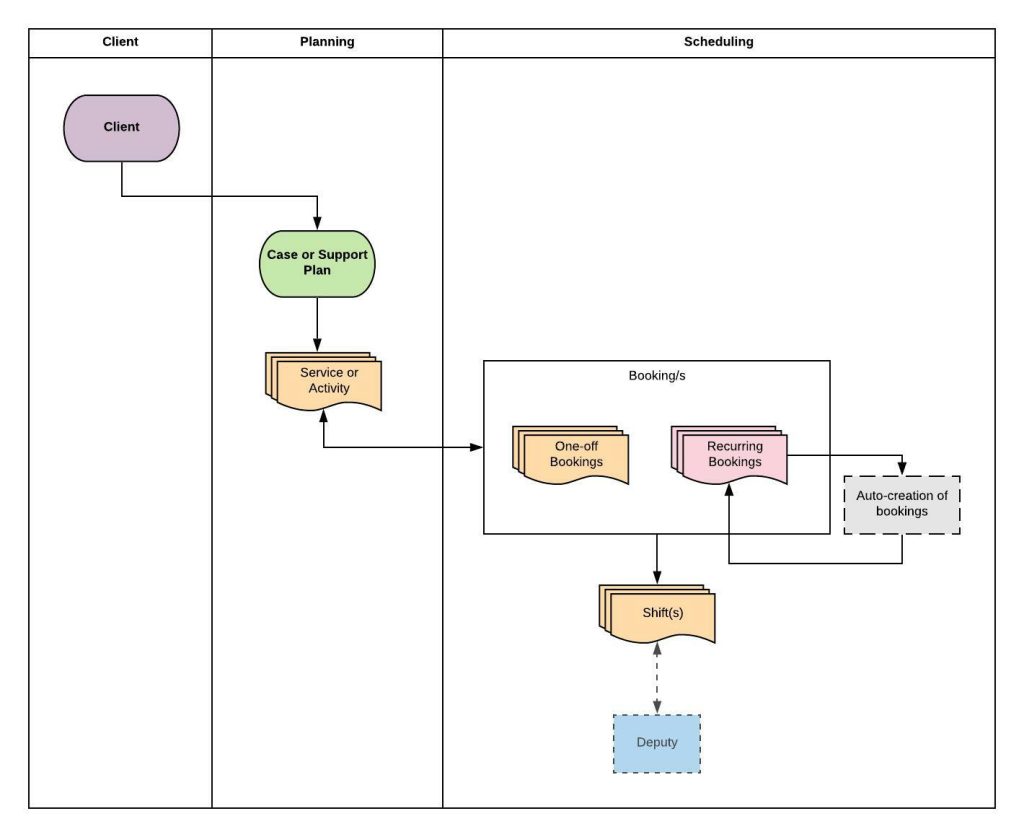 How do I use scheduling?
Scheduling can be used to assign One-off Shifts to a support worker and to create and assign rostered shifts.
One-off bookings are those that are created without recurrence. These may be sessions that vary from week to week or that are created on a more ad-hoc basis.
e.g.
Jane sees a physical therapist as required, on various days.
Sarah attends support meetings when she is available, calling to organise the day before.
Recurring bookings are created using the booking recurrence functionality.
Recurring bookings are created with a session details and recurrence details (e.g. when, who, how long). The Auto-Creation job runs each night and creates the next lot of bookings/shifts according to your system configuration.
Recurring bookings will continue to be created until the case/plan ends or the recurrence is cancelled.
When should scheduling be used?
If a client has sessions at the same day and time on a regular basis.
e.g.
Jane has a support worker visit each week day morning from 9am-10am.
Jack has a support meeting each Tuesday from 3pm-4pm.
Sarah has Occupational Therapy every 2nd Thursday from 2pm -3.30pm
The regular sessions can be configured with a recurrence that automatically creates new bookings.
Jane's support worker visit would created with the following recurrence:
Weekly, Mon, Tues, Wed, Thurs, Fri
Jack's support meeting would be created with the following recurrence:
Weekly, Thurs
Sarah's OT would be created with the following recurrence:
Fortnightly, Thurs
Refer to the Create a Recurring Booking article for detailed instructions.
Creating recurring bookings would automatically create these sessions for the next 28 days, or until a nominated end date. The Auto-Creation runs each night to create any new sessions required.
Note: the auto-creation uses the last created booking as a template for any new bookings. You must ensure the information in that booking is correct. If different support workers are assigned on different days, you may wish to create separate recurrences for each worker.

Any additional sessions required can still be added using the standard process.
What is the overall process for scheduling?
Either leave as a one-off booking, or choose to create a recurrence.
Assign any unassigned shifts
Perform the session (NDIS Activity, CHSP Service etc)
Record session details (case notes etc)
Perform any claims or invoice processes